The State of Mobile 2022 Report gives you the most comprehensive look at the market and guides you in how to leverage mobile market data to propel your growth and delight your customers in 2022.
The statistic in the report says:
More time than ever before is spent on mobile apps, reaching 4.8 hours per day in the top mobile-first markets.

Consumers are migrating their attention and wallets to mobile as over $320,000 flowed through the app stores every minute of 2021, an increase of nearly 20% from previous records in 2020.

Mobile services from both early adopters and mobile-forced players remain in high demand — with global consumers downloading over 435,000 apps per minute.

Advertisers are taking note of the broad reach and deep engagement of mobile apps with mobile ad spend on track to hit $350 billion in 2022, after surpassing $295 in 2021.
2021 was another blockbuster year in mobile, following a pandemic-induced catalyst to mobile habits in 2020.
2022 is set to blow past records in a transformed economy reliant on digital socialization, hybrid work, and entertainment from the palm of your hand.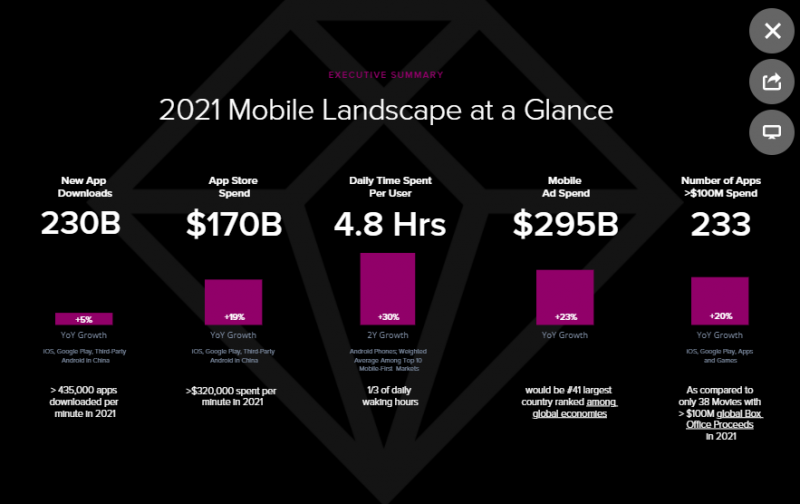 Read the industry's leading mobile report covering everything you need to know to succeed on mobile in 2022, spanning 12 industries and 30 markets in a dynamic interactive format covering:
Which high-growth and emerging sectors are poised for mobile disruption: how to monitor shifts in the mobile economy and seize the next big opportunity
Decode the secrets to success in the rapidly growing mobile gaming market: how App Annie's Game IQ can give you granular actionable insights to form your corporate strategy and refine your product roadmap
How to compete on a global stage with increasing competition — 2 million apps launched in 2021 alone: how the latest market sizing, rankings, advertising, and app store optimization data can help you rise above the competition
Which apps are winning with consumers: what are the most popular apps across gaming, finance, social media, food & drink, shopping, and how are these players reshaping their industries
Where Gen Z, Millennials, and Baby Boomers are opening their mobile wallets: how to maximize your revenue potential from consumer shifts in video streaming, dating, finance, retail, gaming, social, food delivery, health and fitness, and more
How to capitalize 4.8 daily hours spent in the top mobile-first markets and grow your top line: mobile ad spend to top $350 billion in 2022
Which apps and games top the charts spanning over 30 markets across the Americas, Europe, and Asia-Pacific: how consumer demand is reflected in 2021's top apps across downloads, consumer spend, and monthly active users
What in-depth market trends emerged for 17 key markets: how consumer behavior shifted dramatically on mobile and how to make the most of it.
Read the State of Mobile 2022 at https://www.appannie.com/en/insights/market-data/state-of-mobile-2022/