Today (on 2020.04.10) G.Zandanshatar, Spokesman of the State Great Khural of Mongolia met representation of communication sector. In the meeting participated Yo.Baatarbileg, member of the State Great Khural, member of the Government, Minister of Education, culture, science and sport, D.Sarangerel, member of the State Great Khural, member of the Government, Minister of Health, B.Chinbat, Chairman of Communication and information technology, G.Chinzorig, Chairman of Communication Regulatory Commission, Tatsuya Hamada, General Director of Mobicom Corporation, G.Dashnyam, General Director of "Gmobile" LLC, U.Tamir, Executive Director of Mongolian Information and Communication Operators' Association, S.Delgersaikhan, Executive Director of "Gemnet" LLC, Ch.Zolbayar, Director of Information and Communication Network Company, D.Enkhbat, Executive Director of Unitel group, M.Altan-Ochir, Executive Director of "Telecommunication of Mongolia" Shareholding Company, B.Ankhbaatar, Executive Director of "Mongol post" Shareholding Company, D.Narantuya, Executive Director of Skytel group and other officials.
Communication sector representatives expressed their gratitude for spending time and meeting them to Speaker of the State Great Khural, Minister of Education, culture and science and Minister of Health and introduced about the terms and conditions of the sector and its activities.
Informed that business entities and organizations of the communication sector have worked to support all the activities and measures aiming at preventing from the infection of coronavirus (COVID-19) by the Government of Mongolia and State Emergency Commission. Particularly, opportunities have been created to watch tele subjects placed at the website www.econtent.edu.mn on the phone and family internet and watch tele subjects from IPTV video fund free of charge for the definite period of time. For the two months period over 30 million viewers have watched in the duplicated number. Also portals of 11 universities and colleges, which have been conducting online subjects, have become free of charge and opportunity for students has been created to access website of the university and college using data of unlimited speed.
Introduced that discount and reduction have been introduced into the service to increase customer data service capacity, present data package to customers, who made payment online and give discount of basic fee of family internet except the above mentioned activities on education. Creating opportunity to watch the world best movies from video fund on free of charge for the definite period of time on IPTV has had total access of 2 million 534 thousand. International call rate of some countries has been decreased and transfer between online payment accounts has become no commission. As well as introduced working to fully provide preparedness of fibre optic backbone network and mobile communication network at the national level.
Meanwhile some measures including re-planning workplace have been taken in order to provide sterilization and protection devices and immune support products to staff and officials of the sector, shorten working hours, issue opportunity to work at home to 40-60% of employees and decreasing centralization of people at workplace. By the present time measures to cut vacancy and decrease number of work places have not been taken.
Introduced their proposal on possible measures to implement from the sector. Made detailed introduction on proposals to develop news application in order to create united portal of online subject, create opportunity to access it free of charge and support to deliver information on infection of coronavirus (COVID-19).
Also made brief introduction on impact of the conditions in the communication sector. Through decreasing calling service load income has decreased and it will decrease more and more. Moreover, load has increased rapidly due to discount and reduction of the data usage, increasing capacity and speed without price fluctuation and it has created overload of network and risk to influence in service quality negatively has been caused.
There fore introduced that the sector has requested support on issues to involve some state-owned communication companies in reduction of social insurance commission and personal income tax or postpone, ensure continuity and promptness of the international postal service and transmit equipment of the sector under the special and rapid terms.
G.Zandanshatar, Spokesman of the State Great Khural highlighted that however spread of coronavirus (COVID-19) infection has been created new conditions all over the world, as for communication sector there has been existence to convert crisis into opportunity. Mentioned that gave direction and obligation to make digital transformation, which has been talked about for many years, to managers of communication sector.
Informed to participants of the meeting in details that the State Great Khural worked immediately for the short period of time, adopted laws and decrees on the package measures to protect health and income of citizens, keep work place and intensify economics during the pandemic and has worked to develop policies and legal reforms. Expressed to work to pay attention to decide support from the government, which has been mentioned in the introduction on sectorial conditions and implementing activities.
Put request to study opportunity to decrease the phone calling rate during the quarantine in the framework of the social responsibility to the communication companies as implementing in other countries. He highlighted there have been opportunities to support economic activation through achieving postal delivery service to the international standard and developing various kinds of e-service and applications and challenged to work leading as techniques and technologies. As well as put request to work for the public interest in the framework of the social responsibility during the quarantine to broadcast contents of science, enlightenment and education on IPTVs free of charge.
Yo. Baatarbileg, member of the State Great Khural, member of the Government, Minister of Education, culture, science and sport expressed his gratitude to the colleagues of the communication sector to support initiatively from the beginning of the quarantine. Informed that educational sector has transferred subjects of the 1st semester into the tele version successfully by the present time and has worked to transfer curriculum of the whole academic year into tele version by 01 June and create opportunities to study all over the world. Minister Yo. Baatarbileg said that this year 28.5 thousand students will pass general enrolment examination and related parties have conducted survey on preparation of these students for examination. Therefore put request to the representation of mobile operator companies to support opportunities to learn online and prepare for the general examination to students of high schools.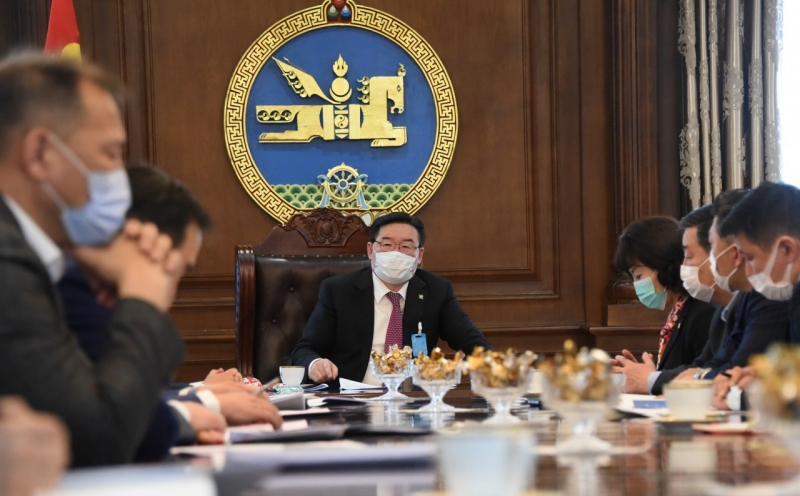 Minister of Health expressed her gratitude that communication sector has donated cash, products, service and equipment in amount of MNT 270 million and created wireless internet network in some hospitals free of charge. In order to provide communication service to people in isolation nearly 500 new numbers have been presented through the Ministry of Health. Information, recommendation, warning messages of the State Emergency Commission and Ministry of Health have been delivered to citizens regularly and by the present time 184.4 million messages of MNT 3.7 billion has been sent. Connection of the special number 119 of the National health information center with the capacity to receive 20 calls at the same time was installed free of charge, put into commissioning for the shortest period of time and has operated in charge of reliable operation, technical utilization and service. Also issuing units and data to staff and employees of the health sector free of charge has rendered much more support to ensure immediate operation. In this way member of the State Great Khural, member of the Government and Minister of Health D. Sarangerel expressed her sincere gratitude to colleague of communication sector, which has made united organization during the pandemic, has understood social responsibility and has cooperated immediately, initiatively and actively.
At the end of the meeting spokesman of the State Great Khural G. Zandanshatar mentioned that the communication sector has paid more attention to needs to transfer service of all types into the online version and develop financial and economic relations in online version due to the current conditions and through working initiatively and immediately the sector has had advantage to convert crisis into opportunity. Media and Public relations department of the State Great Khural informed that the State Great Khural expressed to make decision on legal reforms concerning to Digital transformation immediately at time.