6 Dec 2022, by ITU News
Wireless Internet access through mobile phone networks, or "mobile broadband," has put a world of information and data within reach through everyday handsets owned by billions of people.
By unlocking new services and combining meaningful connectivity with higher-than-ever data rates, mobile broadband has become a practical prerequisite for sustainable global economic and social development.
Active mobile broadband subscriptions continue to outpace fixed broadband growth by a considerable margin, especially in developing countries, according to data from the International Telecommunication Union (ITU).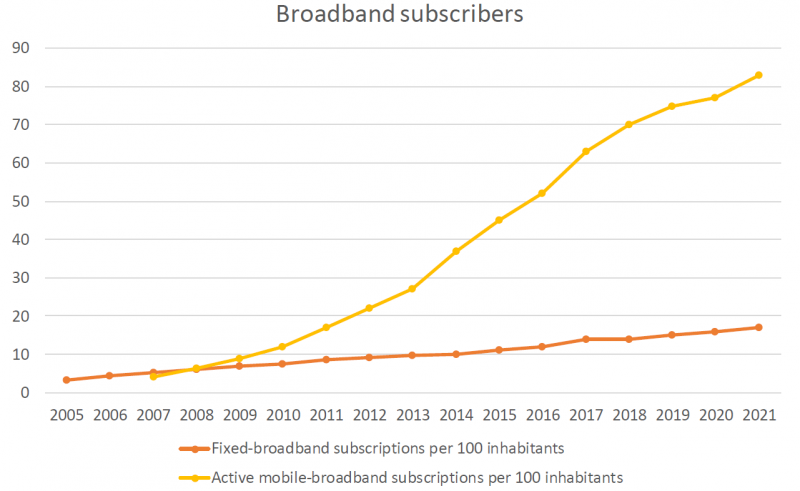 Source: ITU
Along with tracking the rise of mobile broadband, ITU ensures countries worldwide can provide a stable regulatory environment for such services, underpinned by globally agreed standards for International Mobile Telecommunications (IMT).
ITU – through international deliberations involving government and industry radiocommunication experts – established the global technology standards for the last three generations of mobile broadband. These are IMT-2000, popularly known as 3G; IMT-Advanced, also known as 4G (which encompasses LTE-Advanced and Wireless-MAN-Advanced technologies); and IMT-2020, widely known as 5G.
"3G, 4G and 5G are all based on ITU standards for IMT," affirmed Karlis Bogens, Head of ITU's Fixed and Mobile Services Division, during last month's World Radiocommunication Seminar (WRS-22).
5G standardization and rollout
ITU has approved four radio interface technologies for 5G to date: 3GPP 5G-SRIT, 3GPP-RIT, 5Gi, and DECT 5G-SRIT.
These ITU standards encompass detailed specifications for services, spectrum, and technical performance. For example, to comply with IMT-2020 requirements, a given radio interface technology must support a user data rate of 100 Mbit/s and a connection density not less than 1 000 000 devices per km2.
"It must also allow for a certain level of bandwidth flexibility and support a wide range of services with different usage scenarios," Bogens added.
5G has mushroomed since its first commercial deployment in April 2019, with 200 operators in more than 80 markets now offering it.
"Operators are searching for sustainability," Bogens said. "Enhanced mobile broadband applications will be the main 5G application."
Source: ITU
4K, 8K and 3D video, and eventually augmented and virtual reality (AR/VR) are among the key 5G features that could in turn attract mobile subscribers.
Other 5G use cases include smart factories, high-speed trains, drones, autonomous cars, and massive machine-type communications for the Internet of Things (IoT), noted Bogens. "The IoT market is growing very fast, with 97 billion devices expected to be online by 2030."
Improvements in network technology, such as dual connectivity, heterogeneous networks, and network slicing should further boost 5G development, he added.
Work on 6G underway
What comes next? Even amid the rapid rollout of 5G, radiocommunication experts are grappling with the next generation. The ITU Radiocommunication Sector (ITU-R) has begun envisioning IMT systems for 2030 and beyond – those coming to be known in the mobile broadband marketplace as 6G.
Working Party 5D under ITU-R Study Group 5 (Terrestrial Services) has prepared a report on future technology trends for IMT systems and is now preparing a "vision" recommendation on the next generation of mobile technologies for 2030 and beyond.
While specific usage scenarios are still under discussion, experts in the group have identified trends in evolving radio access technologies that could improve the efficiency of spectrum utilization in current and future IMT systems and enhance the mobile broadband experience.
One such trend, noted Bogens, is inter-band carrier aggregation – a radio access network software feature that enables operators to combine radio cell capabilities at different frequency bands, which can improve the data rates for end users. For mobile network operators that hold licenses for different frequency bands, inter-band carrier aggregation is complex to implement. Standardization and cooperation, therefore, are vital as mobile telecommunication platforms keep evolving.
Other trends include advanced modulation types and massive MIMO (multiple input, multiple outputs). MIMO technology uses multiple antennae at the transmitter and receiver to increase the quality, throughput, and capacity of a radio link. A complementary technology, 3D beamforming, uses advanced antennae to focus horizontal and vertical beams toward users – a valuable capability, especially in cities.
IMT at WRC-23
ITU Member States identify the spectrum to be considered by national regulators for mobile broadband services and work together to harmonize spectrum use. They do this through updates to the international Radio Regulations treaty at the quadrennial World Radiocommunication Conference (WRC).
WRC-19, held in Egypt in 2019, identified 17.25 gigahertz (GHz) of spectrum for IMT in five frequency bands between 24.25 GHz and 71 GHz. At present, the total spectrum identified for IMT is 19.136 GHz up from 230 megahertz (MHz) in 1992.
The upcoming WRC-23, with six IMT-related items on its agenda, could further contribute to the development of this growing family of wireless mobile communications.
This special ITU News blog series features content from the 30th World Radiocommunication Seminar, including a closer look at the latest trends in broadcasting, international mobile technologies, maritime communications, space, terrestrial services, and more. The series will conclude with a preview of the World Radiocommunication Conference (WRC-23), set to take place in Dubai from 20 November to 15 December 2023.
Source: https://www.itu.int/hub/2022/12/wrs-22-mobile-broadband-trends-from-3g-to-6g/?ct=t(EMAIL_CAMPAIGN_14_12_2022_ITUNEWS_WEEKLY)