One of the activities specified in action plan of the Association in 2019, forum on "How to share network and infrastructure" was organized among the member organizations at the meeting hall of Information and Communication Network Company on 18 October 2019. In the forum totally 23 people including policy planning and technical staff of the member organizations of the association participated.Each company introduced example, experience and opportunity mutually using infrastructure and network and mutually exchanged opinions.

As the basic network cooperates at the adequate level to rent stock of battery and glass cable fiber except channeling and create stock of network. However as for consumer network there are opportunities to mutually share tower, antenna basement and pole, time difference raises depending on network planning of each company and it is impossible to implement in practice. Therefore in case members of the association create opportunities to exchange information on network planning, it helps to cooperate in this field. Main network operators have already started to implement standard practice of this field and it has been effective. Moreover, participants of the forum said that to create standard through cooperation of all the mobile communication operators at the base station level, which there are requirements to transfer in a city, should be an appropriate step.
"The latest international standard has been shown radio frequency efficiency has been increased using opportunity to use sharing Radio Access Network /RAN/ of mobile network at the aggregation level except passive part of infrastructure. Furthermore we should estimate this opportunity to determine strategy to introduce 5G technology. From the current practice as for IPTV technology there is opportunity to share and utilize "headend" to connect with the foreign and domestic studio and production" introduced Ch.Davaajamts, Vice Director in charge of Technology of Skytel LLC.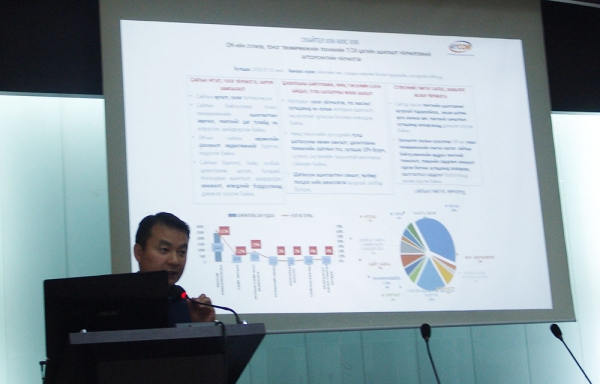 It is to consider that it is crucial to specify opportunity to use sharing in indoor network of the building as for any operators in order to be open for choice of consumers in the related standard, norms and regulations. Moreover, it highlighted that it is important to follow one policy as for rental price to negotiate with the building owner and not to create price competition.
All of them understand that to utilize sharing infrastructure and network at any levels is important for each operator to avoid from duplicated investment and save cost and therefore participants of the forum have agreed that to reply to request of each other and settle immediately can improve cooperation more anymore. Decision was made to make action plan to implement these proposals and initiatives in the forum at the association level and introduce it at the meeting of the Board of the Association.